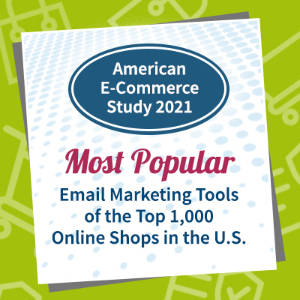 The most popular email marketing tools of the top 1,000 online shops in the U.S.
21. June 2021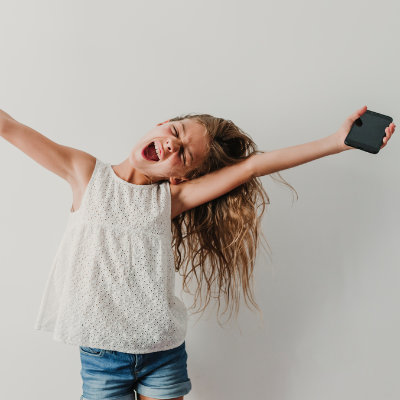 WhatsApp is back! Sort of, at least…
17. January 2022
Email Marketing Activities of the 1,000 Most Successful Online Shops
The Market Shares of Email Service Providers Used by the Top 1,000 Online Shops in Germany
Of the 1,000 online shops in Germany that generate the most revenue, 87% actively engage in email marketing 1. We have now examined the tools they use in this area for the fourth time as part of a study being conducted on the German e-commerce market in 2021 by the EHI Retail Institute and Statista.
Our analysis once again involved subscribing to the newsletters of all the shops in question (provided they were offered free of charge). We subsequently received more than 70,000 emails. Around two-thirds (68%) of the 871 online shops sent us their free newsletters at least once each week, and 19 of them did so every day. Only 129 companies did not send us anything, either because they do not offer a newsletter subscription (73) or simply did not issue any correspondence beyond the confirmation of our subscription (56). These figures are virtually identical to those from 2020, which shows that email remains an extremely popular marketing instrument.
Nearly universal use of professional email service providers
To identify the email systems the shops use for distribution, we analysed the headers of the newsletters for clear indicators. Shops for which a specific professional system could not be determined either make use of in-house developments or distribution solutions that are integrated into their e-commerce systems. This, however, is seldom the case: Over 95% of the 871 online shops that send out regular emails use an email service provider (ESP) or a sending service. For the 2021 study, we no longer distinguished between ESPs and sending services, which are connected directly to a shop or other (in-house) marketing systems via APIs. That is why this year's list now includes SendGrid and Amazon SES. It is indeed becoming increasingly difficult to classify such systems clearly, as some sending service providers (like SendGrid) offer both a marketing automation front end for business clients and a sending service back end for email marketing providers.
Meanwhile, just 13 online shops (1.5%) use a custom script or module, while 28 (3.2%) have no discernible distribution system. The percentage of these two groups together was significantly larger last year (6.2%). This indicates that more and more online shops are relying on email service providers when it comes to topics like mail server configuration, distribution management, and email deliverability.
Muddled, fragmented, and unevenly distributed
The year 2021 was another that brought no indication of future market consolidation. For their email marketing, the 1,000 online shops in Germany with the highest sales (or more accurately, the 830 shops that send out emails regularly) utilise 65 different distribution systems. This marks a continuation of the highly fragmented market we encountered in the three previous years. Still, the number of total systems in use has slightly declined: We identified 71 ESPs and sending services in 2020, and 70 in 2019.
The uneven distribution in the shops' choice of systems is another aspect that has remained more or less constant. The 20 most-used platforms dominate 87.6% of the market, with the two leading providers – Emarsys (which SAP acquired in 2020) and Salesforce – accounting for around a third of the market on their own. Every other player has a market share of less than 10%, and outside of the top 20 solutions, the usage figures quickly drop into the marginal range: We identified seven shops using Bloomreach Engagement (previously known as Exponea – 21st place), for example, and just five for Artegic (25th place). In this context, the acquisition or loss of a single customer leads to a great deal of movement in our ranking, but the market shares at hand fall far short of 1%. In fact, 30 of the platforms are used by only one or two of the 1,000 highest-selling online shops in Germany.
The market is in motion – if you zoom out far enough
Taking another look at the largest shares of the market, the Emarsys marketing platform was (as in the previous years) the clear number one. Of the 830 online shops we identified, 183 (22%) use this solution – almost exactly twice the number of those that rely on Salesforce Marketing Cloud (92 shops, or 11%). Salesforce has gained nine shops since 2020, however, making it one of the most upwardly mobile companies on our list. This also represents a continuation of the growth the multi-cloud solution provider has enjoyed of late (2020: 83 shops; 2019: 62 shops; 2018: 41 shops). While these developments indicate that there is indeed movement in the market, customers do not switch email service platforms every year. Trends therefore only emerge over longer periods of time.
The third-place provider, Optimizely (formerly known as Episerver / Optivo), has been experiencing a trend of its own, but in the opposite direction: Just 64 of the top 1,000 online shops in Germany are currently using this solution. In 2020, that number was 77, which was already the result of one of the sharpest declines we recorded in absolute figures compared to 2019 (when 84 shops were still utilising Episerver).
Mailchimp has also suffered significant losses, coming in at 40 shops (compared to 48 in 2020) in our most recent survey. Could the judgement handed down by the Bavarian state data protection authority earlier this year have played a role in this downturn? Whatever the case, the US company's market share has dwindled slowly but surely (from 6.6 to 4.8%) since we began carrying out this study in 2018. This may also be due to the fact that with Mailchimp, functions in two areas that continue to gain significance – segmentation and automation – are either not included or only available in the premium package. We are also seeing similar downward trends in providers like Mapp and Cheetah. Meanwhile, the market share accounted for by German marketing platforms that focus primarily on email (e.g. CleverReach, Inxmail, and XQueue) remains relatively stable, with only slight fluctuations.
Back on the positive side, another of this year's clear winners was Klaviyo, which turned in the biggest gain of all the providers surveyed (10 shops since 2020). The US company's market share remains just under 2%, however, and it has not (yet?) taken off to the same impressive extent back home. It will be interesting to see whether lean marketing automation platforms continue to grow as Klaviyo and GetResponse (from four shops in 2020 to 11 in 2021) have done. Along with email automation, such solutions make it possible to create landing pages, social advertising, and SMS campaigns and offer turn-key integration with many shop systems.
Email operations behind the scenes: SendGrid, SparkPost, Amazon SES, and Mailgun
Another trend that has become apparent in the last few years has to do with the growth of sending services. These developer-oriented platforms handle email distribution either by receiving requests directly from a website or online shop via an API, or by acting as a back-end distribution system for another email service provider. Along with the 37 online shops (4.5%) for which we were able to identify a sending service, 32 of the top 1,000 online shops in Germany (3.8%) use a front-end marketing platform that employs a sending service in the background. SAP Marketing Cloud, for example, sends its emails via Amazon SES (among other services), while Braze and Klaviyo use SendGrid. SparkPost is the service of choice for platforms like Ometria and Iterable, and Bloomreach (Exponea) takes advantage of Mailgun.
In the market share overview above, we listed the front-end email marketing providers used most often by the e-commerce companies in our survey.
If we only consider the services actually sending the emails, however, the distribution shifts (see graphic): Klaviyo drops all the way out of the top 20, and Mailgun comes in at the tail end. SendGrid and Sendinblue advance to seventh and eighth place, respectively.
In our 2021 analysis of the most popular email marketing tools among the top 1,000 online shops in the United States, SendGrid emerged as the current leader with a market share of just under 20%.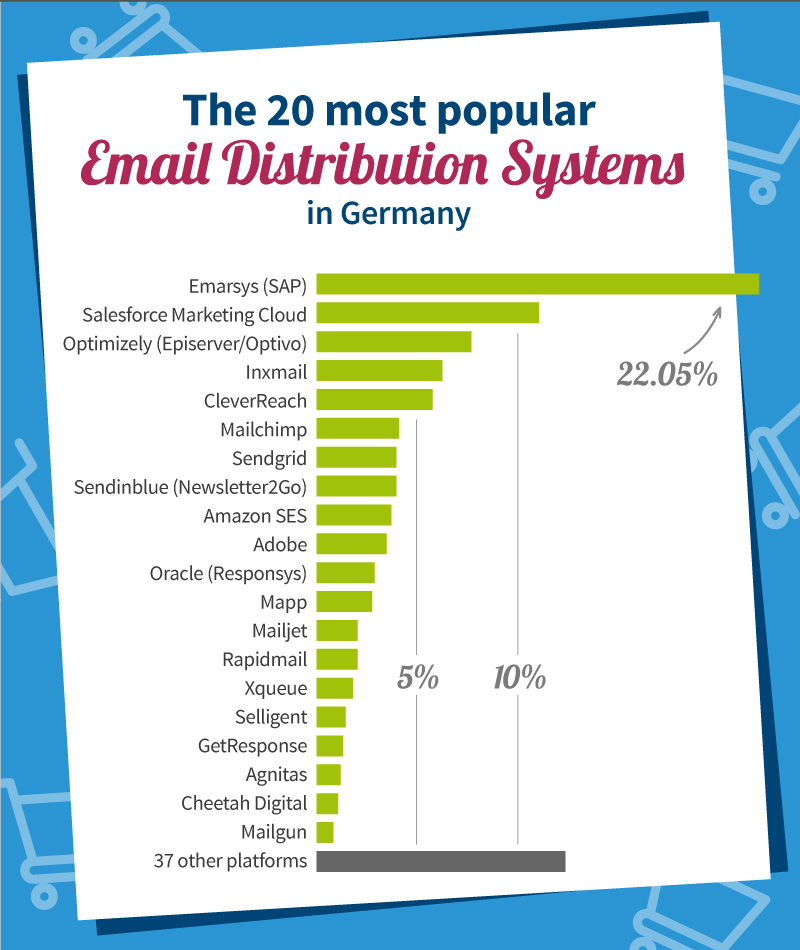 The trend towards sending services has two main facets. First, these services benefit a great deal from economies of scale, meaning that the more a service is used, the more it can optimise the price of each email sent (CPM). Second, the market continues to open up: Email service providers that avail themselves of sending services can offer a campaign front end without having to worry about the complex and resource-intensive subject of deliverability. Particularly in the case of multi-channel platforms for which email is just one medium among many, this requires less investment and expertise.
Can we expect things here in Germany to develop much like they have in the US? Last year, the proportion of German online shops using sending services was 3.4% – but it has already risen to 8.3%. This is just one of the trends we'll be watching going forward.
The Market Shares of Email Service Providers Used by the Top 1,000 Online Shops in Germany 3
| | |
| --- | --- |
| Email Service Provider | Market Share |
| Emarsys (SAP) | 22.0% |
| Salesforce Marketing Cloud | 11.1% |
| Optimizely (Episerver/Optivo) | 7.7% |
| Inxmail | 6.3% |
| CleverReach | 5.8% |
| Mailchimp | 4.8% |
| Sendinblue (Newsletter2Go) | 4.0% |
| Adobe | 3.5% |
| Oracle (Responsys) | 2.9% |
| Mapp | 2.8% |
| Amazon SES * | 2.2% |
| Mailjet | 2.0% |
| Rapidmail | 2.0% |
| Klaviyo | 1.9% |
| Xqueue | 1.8% |
| Sendgrid * | 1.7% |
| Selligent | 1.4% |
| GetResponse | 1.3% |
| Agnitas | 1.2% |
| Cheetah Digital | 1.1% |
| Bloomreach (Exponea) | 0.8% |
| Bronto | 0.7% |
| Retarus | 0.7% |
| SAP Marketing Cloud | 0.7% |
| Artegic | 0.6% |
| Mailgun * | 0.5% |
| Mailingwork | 0.5% |
| Marketo | 0.5% |
| mission‹one› | 0.5% |
| Active Campaign | 0.4% |
| Clang | 0.4% |
| dotmailer | 0.4% |
| Iterable | 0.4% |
| RedEye | 0.4% |
| Acoustic Campaign | 0.2% |
| Braze | 0.2% |
| Campaign Monitor | 0.2% |
| ContactLab | 0.2% |
| EmailLabs | 0.2% |
| HubSpot | 0.2% |
| OpenText | 0.2% |
| Oracle (Eloqua) | 0.2% |
| Sailthru | 0.2% |
| SALESmanago | 0.2% |
| SC Networks (Evalanche) | 0.2% |
| SmartFocus (Emailvision) | 0.2% |
| Arvato (eLettershop) | 0.1% |
| Atrivio | 0.1% |
| Backclick | 0.1% |
| Copernica | 0.1% |
| Custobar | 0.1% |
| Flexmail | 0.1% |
| Fotone.Net | 0.1% |
| Interspire | 0.1% |
| Klick-Tipp | 0.1% |
| Newstroll | 0.1% |
| Ometria | 0.1% |
| promio.net | 0.1% |
| Schober (Xcampaign) | 0.1% |
| SparkPost * | 0.1% |
| Spotler | 0.1% |
| Swift Mailer | 0.1% |
| Tripolis (Webpower) | 0.1% |
| Zoho Campaigns | 0.1% |
1 Basis: The 1.000 B2C online shops with the highest turnover and selected marketplace in 2021, determined by EHI Institute, E-Commerce Market Germany 2021, sorted by E-Commerces sales in fiscal year 2020.
2 Online shops that have sent at least one marketing email in the study period of 12 months n=871
3 1,Online shops that sent us emails via an identified sending platform during the survey period of 12 months: the percentage market share was calculated from the number of companies where the ESP was identifiable. n=830 
*  excluding companies that use this sending service as a back end sender of a marketing automation platform, for these companies the "front end" email service provider is listed (where the ESP was identifiable).