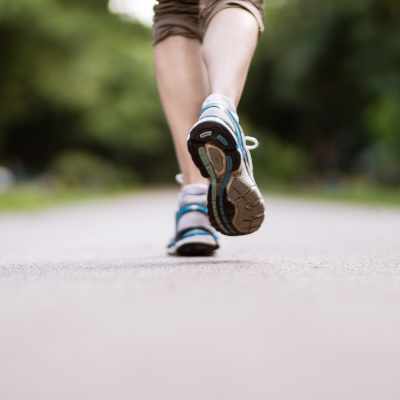 Taking the long way to generate qualified leads
8. June 2021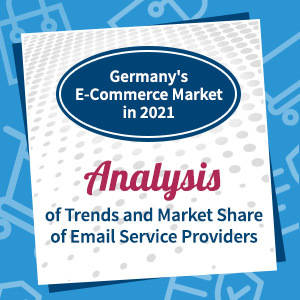 Study on Email Marketing in 2021
27. October 2021
Market Shares of the Email Service Providers
for the Top 1,000 Online Shops in the U.S.
A Dynamic, Fragmented Market
How many email service providers (ESPs) can you name?
If you can manage 15 or more – kudos to you! But that's still less than a quarter of the providers active on the email service provider market, because it really is highly fragmented. The 1,000 biggest U.S. online shops alone use 68 different providers.
We discovered this recently in a study, where we identified the most popular online shops for physical goods in the United States and, where possible, signed up for their marketing newsletter (learn more about the methods we used here). This way, we managed to figure out the currently most popular email service providers – and we observed a number of interesting trends. First of all, though, let's look at the basics: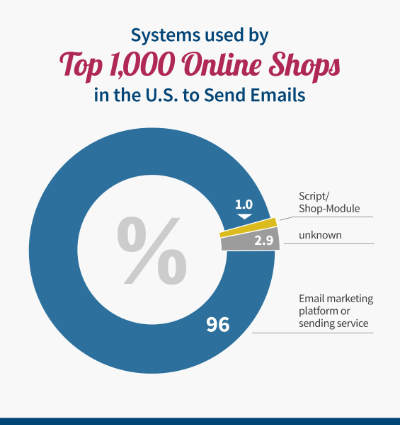 Email marketing is still extremely popular. You can subscribe by email to over 95% of the 1,000 online shops we identified. (Tell that to anyone who says email marketing isn't cool any more.)
Of the 859 shops we surveyed between November 2020 and May 2021, 96% sent us marketing emails for which we managed to identify the sending service used. That's how we worked out the market shares in our ranking.
There are not only myriad providers (68, remember) but the market shares vary hugely, too. No single provider dominates the market. Even the top five together have less than a 50% market share.
And one more thing: When we analyzed the American e-commerce market for the first time in 2016, we debated whether it's legitimate to talk about one market at all. We proved it was. We explain why later in this article.
20 Most Popular Email Marketing Solutions in the U.S.
Salesforce Marketing Cloud is the undisputed leader with 146 online shops. Klaviyo achieves a respectable second place. Both have gained in popularity since our market analysis in 2016 – but note that we used a different method and population last time.
Since then, Salesforce has hugely increased its footprint, for example, by acquiring Demandware (now Salesforce Commerce Cloud) and is enjoying success with comprehensive CRM, including integrated shop and marketing systems. While Salesforce positions itself as a broad-based provider of a family of highly integrated solutions, Klaviyo sells itself as a "classic" marketing automation player with out-of-the-box integrations for many popular online shop systems.
Klaviyo is also an attractive option for small and growing companies, thanks to its freemium pricing model. Klaviyo seems to have found a recipe for success, as proven by the big market share among the top 1,000 in our study, and also by the great interest and confidence of investors: It was only in March 2021 that Klaviyo raised 320 million dollars, doubling its private marketing valuation to almost 10 billion dollars.
So, two very different providers occupy the top spots. But there has been a good deal of movement further down the list, too, with very many midmarket systems still holding their ground. The 2021 results can't be compared one-on-one with our figures from 2016, but some trends have emerged:
Mailchimp has dropped behind considerably since 2016. Back then, the solution reigned supreme with a market share of 26%. This year, it scored a paltry 5% and ranked sixth.
A few younger players have arrived on the scene. Solutions such as Iterable, Cordial, and Braze are now among the top 20. Together, these three have amassed a market share of 6.5%, which is more than Mailchimp. One thing is striking: Like Klaviyo, they all choose to rely on sending services – more about this later in the article.
One of the biggest newcomers to the top ten (and the only company with roots outside the United States) is Emarsys, which has had an American head office in Indianapolis since 2015 and was acquired by SAP in 2020. In terms of CRM, SAP sees itself in a league with Salesforce, but has had precious little success in providing email marketing with its solution SAP Marketing Cloud, which has been around in different guises for many years (and the situation is much the same in SAP's home country Germany). It was therefore logical for SAP to snap up Emarsys last year – a player that has grown strongly over the past years in the United States and in Asia, particularly in e-commerce.
The market share of Constant Contact is much smaller than we would have anticipated based on the figures from 2016 (6.2%). The current customer share of 0.8 % among the top 1,000 e-commerce companies looks very much like a fall from grace.
Veteran enterprise providers such as Oracle (with Responsys, acquired in 2013) and Cheetah Digital (under the Experian flag in 2016) as well as Acoustic Campaign (Silverpop/IBM Watson in 2016) retain their market shares in a moderate single-digit percentage range – although all of them have been around for at least 15 years, so their underlying technology isn't exactly state of the art.
One surprise is that Oracle's Bronto makes the top 10. It's still being deployed by 3.5% of the top 1,000 companies a good year before its declared end of life. This means a move will be on the cards for quite a few marketeers – and we're excited to see where they choose to go.
The rise of Sendgrid, Sparkpost, Amazon SES and Mailgun: Sending is trending
In our survey, we observed a subtle trend that has the potential to change the market permanently: sending services – developer-focused sending platforms that take care of delivering emails either through API integration or as a back end for another email service provider. Some, such as Sendgrid, offer both: a marketing automation front end for business customers and a sending service back end for email marketing providers or (in house) developers.
If we look at purely the email senders rather than the email marketing providers in the "front end," our ranking changes significantly: Klaviyo disappears completely, as do the youngsters Braze, Cordial, and Iterable, while Sendgrid moves up to the top spot with a market share of 20%. SparkPost, Amazon SES, and Mailgun are also among the sending services that rank significantly higher in the top 20 email solutions ranking.
Overall, the number of different solutions used by the top 1,000 online shops in the U.S. drops from 68 to a mere (!) 53 from this perspective.
The trend toward sending services has two fundamental consequences:
Big sending platforms make big money.
Sending services profit enormously from economies of scale – the more a service is used, the sooner it can lower its price per email sent (CPM). This is a self-reinforcing effect, but one that brings with it the dangers of oligopoly. In particular, it puts pressure on providers who use price to differentiate themselves from their competitors.
The market opens up more.
Email service providers (ESP) who use sending services can offer a campaign front end without having to manage all the technical complexities of delivery – a hefty topic many would prefer not to have to grapple with. This means the barriers to market entry in the form of investment and expertise will be lower, especially for multichannel platforms, for whom email is just one of many channels.
It's interesting to note that ESPs who use solutions such as Sendgrid indirectly boost the sales of their competitors. They must offer their customers added value beyond sending costs and deliverability, otherwise they will make themselves superfluous.
What's more, to some extent, these companies rescind the end-to-end control of email marketing as software-as-a-service: They partly delegate reputation management and deliverability to a third party and lose a potential unique selling proposition. By virtue of their business model, sending services that are driven by volume and price typically won't put such an individual focus on the deliverability requirements of the customers of their (ESP) customers – and likewise, these end customers lose control of sending.
Conclusion: What does it all mean?
An in-depth analysis should do more than unearth the obvious. It should also examine findings that might be easily overlooked, for example, because nothing has changed. Our study revealed that, despite the market being highly dynamic, there is no consolidation: Sixty-eight providers (or 53 senders) for 1,000 online shops indicates that a lot of solutions are used by relatively few customers. Even the leading solutions have less than a 20% market share related to the number of users.
Above all, though, one other "non-change" stands out: There's (still) no clear trend away from email. Almost all online shops use it. The sheer mass of emails we received in the past six months (a whopping 40,000) suggests that the old medium is still alive and kicking and that it's very important for uplift and customer lifetime value.
Email might not be the coolest channel nowadays – with social media, app push, and messengers being younger, more refreshing, and in some cases more direct – but no other channel is as good at addressing large quantities of potential and existing customers consistently throughout the entire customer lifecycle with personalized messages. The many providers who have joined the market more recently evidently agree – because they have invested vast sums in the email channel. And a fragmented market also means that there's a great variety of solutions for different requirements, from small businesses with modest needs to mighty organizations with big budgets.
Market shares of the 68 email service solutions among the top 1,000 most-visited (by Alexa Rank) online shops and marketplaces selling physical consumer goods in the U.S.1
| | |
| --- | --- |
| Email Service Provider | Market Share |
| Salesforce Marketing Cloud | 16.9% |
| Klaviyo | 10.1% |
| Sendgrid* | 6.5% |
| Listrak | 6.5% |
| Oracle (Responsys) | 6.3% |
| Mailchimp | 5.0% |
| Cheetah Digital | 4.3% |
| Sailthru | 4.1% |
| Emarsys (SAP) | 3.8% |
| Oracle (Bronto) | 3.5% |
| Adobe | 3.4% |
| Iterable | 3.0% |
| Cordial | 2.2% |
| Acoustic Campaign | 1.7% |
| Marketo | 1.4% |
| Braze | 1.3% |
| Amazon SES* | 1.2% |
| Epsilon | 1.2% |
| HubSpot | 1.0% |
| Oracle (Eloqua) | 0.9% |
| Constant Contact | 0.8% |
| Mailgun | 0.7% |
| Active Campaign | 0.6% |
| Selligent | 0.6% |
| Wayfair in-house platform | 0.6% |
| dotmailer | 0.5% |
| Salesforce Pardot | 0.5% |
| Yesmail | 0.5% |
| Adestra MessageFocus | 0.3% |
| Drip | 0.3% |
| Mandrill (by Mailchimp) | 0.3% |
| MessageGears | 0.3% |
| SparkPost | 0.3% |
| Whatcounts | 0.3% |
| Zaius (Optimizely) | 0.3% |
| Campaign Monitor | 0.2% |
| ConvertKit | 0.2% |
| iContact | 0.2% |
| SAP Marketing Cloud | 0.2% |
| Shopify | 0.2% |
| UpSellit | 0.2% |
| Acxiom Impact | 0.1% |
| Adobe ColdFusion (Server) | 0.1% |
| Adone | 0.1% |
| Arvato (eLettershop) | 0.1% |
| Auspient | 0.1% |
| ClickDimensions | 0.1% |
| CM Commerce | 0.1% |
| ContactLab | 0.1% |
| Customer.io | 0.1% |
| EmailOctopus | 0.1% |
| Emma | 0.1% |
| ExpertSender | 0.1% |
| Exponea | 0.1% |
| Facebook Zuckmail (Script) | 0.1% |
| Google Gmail – G Suite | 0.1% |
| Infusionsoft | 0.1% |
| Mailjet | 0.1% |
| Mapp | 0.1% |
| Maropost | 0.1% |
| Ometria | 0.1% |
| Omnisend | 0.1% |
| OpenText | 0.1% |
| Reasonable Spread | 0.1% |
| Vero | 0.1% |
| Vertical Response | 0.1% |
| Zeta (e-dialog) | 0.1% |
| Zoho Campaigns | 0.1% |
| sending service not detected | 2.9% |
| website/shop sending script | 1.0% |
Method: What did we do?
For our study, we sorted the 20,000 most-visited U.S. websites (listed by Alexa Rank, as at October 28, 2020) according to size (in descending order) and then trawled through them manually for online shops. We then identified the 1,000 most popular shops and marketplaces that sell physical consumer goods. We didn't include shops that sell only digital products and services, news/media portals, streaming services such as Netflix, online meeting platforms such as Zoom, educational services, online gaming platforms, insurance companies, and so on.
Wherever it was possible to subscribe to an email newsletter without making a purchase, we signed up. We uniquely identified the email service providers and sending services used by analyzing the email headers.
In our previous survey in 2016, we took the 4,166 e-commerce websites with the highest Alexa and Internet Retailer's Top 1,000 ranking, which produced a different population. The rest of the procedure was basically the same as this time.
When is a market a market?
When we analyzed the
U.S. e-commerce market for the first time in 2016
, we debated whether it is legitimate to talk about
one
market at all. Can you measure email services like Mailchimp with free basic product versions by the same yardstick as powerful multichannel marketing automation platforms such as Salesforce Marketing Cloud? Or are we comparing apples and oranges?
We believe our ranking method is valid, because, first, each of the email service providers offers a solution to meet an online shop's fundamental requirement to send emails. This is a theoretical/academic rationale, which is open to discussion. Second, though, there is a much stronger practical argument: Our 2016 study showed that Salesforce Marketing Cloud tends to be used by large e-commerce providers, while Mailchimp is preferred by smaller ones (so, no surprises there). But there are no distinct markets: Mailchimp was used even in the segment of the 10% most-visited websites. And conversely, some of the 10% most popular websites in our population deployed the Salesforce solution. Our conclusion: The solutions exist in parallel in a common market.
1 20 Most Popular Email Marketing Solutions of the Top 1,000 Online Shops in the U.S. Basis: Email service providers used by 859 of the 1,000 online shops for physical consumer goods that sent emails during the survey period of six months (Nov 2019 – May 2021). the percentage market share was calculated from the total number of companies that sent us at least one email.
2 20 Most Popular Email sending services of the Top 1,000 Online Shops in the U.S. Basis: 859 of the 1,000 online shops for physical consumer goods that sent marketing emails during the survey period of six months (Nov 2019 – May 2021). The percentage market share was calculated from the total number of companies that sent us at least one email.
* excluding companies that use this sending service as a back end sender of a marketing automation platform, for these companies the "front end" email service provider is listed  (where the ESP was identifiable).