Which marketing campaigns pay off the most?
18. January 2021

What type of email would you like?
29. April 2021
When's the ideal sending time and what's this got to do with Corona?
What millions of emails reveal about the optimal sending time
The perfect time to send emails: Sending emails at just the right time generates maximum interest and is rewarded with higher click-through rates. Modern marketing automation tools calculate the ideal time for customers to receive emails, using a process known as SendTime Optimization – and the corona pandemic has brought about enormous changes in patterns.
You might think so, but in actual fact none of this is true. For ages (in the digital world, that's five years or more), marketers have been sending out their emails between 10am and 11am and early in the evening after work. Any corona blips? None whatsoever.
This is clearly revealed (or clearly not revealed) in the figures, which show nothing we didn't already know. For we've examined this topic once before and found that there is no such thing as an optimal sending time and that relevance is by far the more important criterion. We have now collected well over a million marketing emails from B2C and B2B companies (thanks in part to our e-commerce studies) and taken a fresh look at the aggregated data.
The most popular days, times and effects of Corona
Our first evaluation focuses on the busiest times for sending emails over the last five years. Two things emerge: noticeable peaks at 9am and at 5pm (based on UTC, which is already 10am in Germany (in winter) or 11am CET when it's 9am UTC).
Sending times over a 5 year period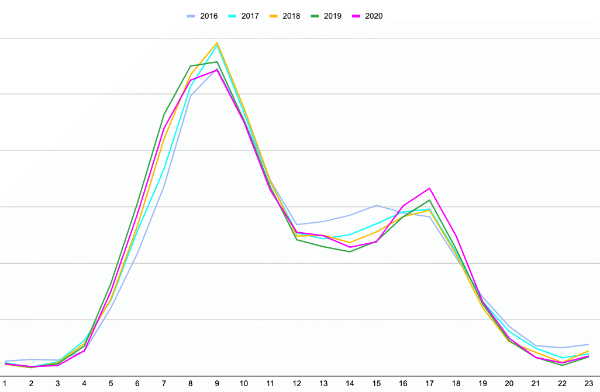 The graph above reveals surprisingly uniform trajectories year after year – clearly unimpressed by something like a troublesome pandemic. There are only a few notable differences – for example, since 2019, more and more emails are being sent as early as between 7am and 9am UTC rather than mainly at 9am. Does this mean that emails are being read more often on the way to work? And in 2020, a striking after-work peak can be noted at 5pm UTC. Does this mean that people are no longer out and about after work due to corona and therefore have time to check their emails? Our honest answer: Maybe, maybe not. Only one thing's for sure: Marketers love sending emails at 9am or 5pm (UTC).
So why? Are these really the objectively best sending times? Do elaborate split tests across all target groups show that most recipients eagerly consume advertising emails in precisely these time slots? We believe the answer lies elsewhere: After all, senders are only human and act according to familiar patterns. And we believe that the peak patterns correspond more with such plans as "Send out the newsletter in the morning before the meeting" and "Finish the email quickly before clocking off for the day". This assertion is also supported by our second graph:
Over the past five years, most mails have always been sent on the hour, and about half as many on the half hour (i.e. at a ratio of 2:1). The smaller peaks are the 5-minute intervals that are easier to set up on many platforms than manual entries. Our advice: If you want your mail to stand out, then you should send it on the quarter hour – or at 8.56am, because six minutes before the hour is when the fewest number of emails arrive in the average inbox.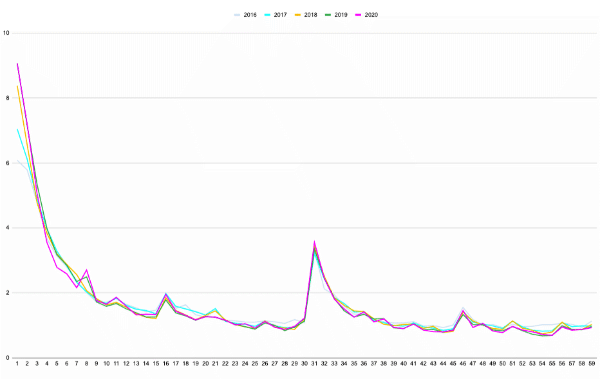 Finally, a word about sending days: Thursdays and Fridays are the most popular, Saturday is email-free for many. Here again, it is not so much this fact itself that is impressive as the enormous stability that can be seen over time.
As with the sending times, the question here is: Are these really the best sending days as revealed in the multiple tests across all industries and target groups? Again, we reiterate our above assertion about email marketers being only human and exhibiting a degree of herd behavior in their work schedules and habits.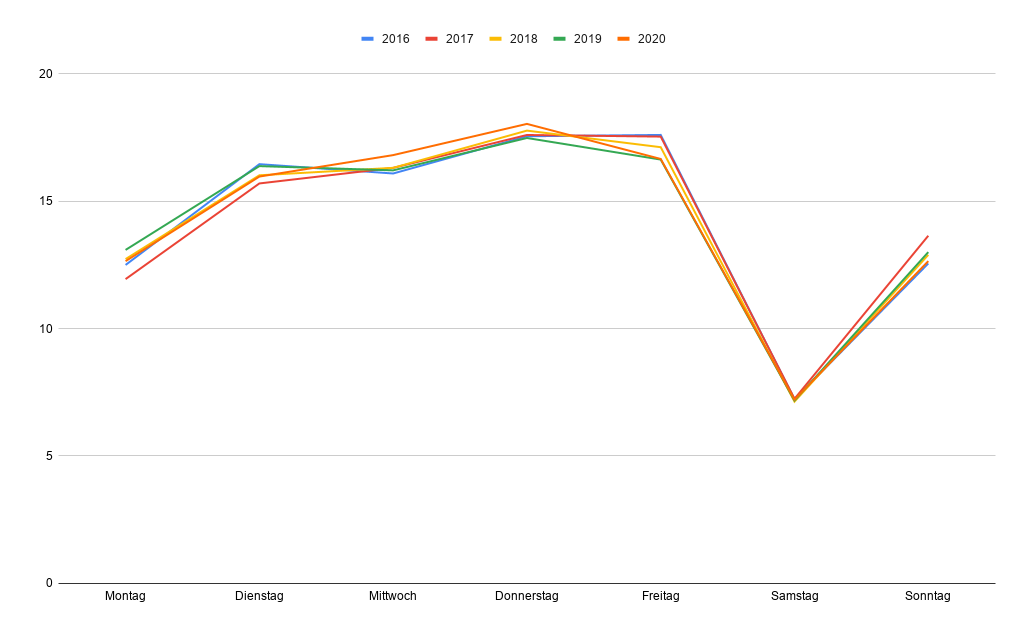 Email sending day
Final proof: For some time now, email marketing platforms have been advertising SendTime Optimization, which is when sending times are individualized on the basis of algorithms that determine the best deliverability for each recipient. The highly consistent sending times we have illustrated above indicate that no paradigm shift has taken place on the market – with the campaign managers still determining when the emails are sent and not the recipients. And when testing which sending time is the best, they're more likely to focus on the times that are popular in any case, such as 10am and 6pm.
We support you - at any (sending) time!
Our direct marketing professionals are there to support you with the conception, design, production and sending of your marketing emails. Contact us for a non-binding discussion about your requirements!