Noticed instead of drowned
11. April 2019

Company identification tools under test
16. May 2019
Adding oomph to your emails
What's the score for mails with dynamic and interactive content in 2019?
Kinetic or interactive emails are emails that contain dynamic or interactive elements. These include mouse-over effects or text and image animations such as show/hide features, rotations and text zooms. We regularly see such effects and elements on websites. In emails, they're designed to attract attention and spice up our inboxes. It's been possible to integrate kinetic or interactive components into emails for a while now with HTML5 and CSS3 code. But integrating and testing these elements takes a lot of effort and, even then, there's no guarantee that the content can be displayed by many of the email providers.
We first looked at kinetic email design in 2015. In our post back then, we were sceptical about whether the effort could be balanced with the potential benefits of the effects. The probability that the effect could be displayed as desired was very low, so that's why we suggested resorting to well-designed conventional emails with a professional landing page as a more economical and less time-consuming solution. Nevertheless, dynamic content is an eye catcher and offers scope for individuality in an otherwise mundane inbox – reason enough to revisit this topic a few years on and test its usefulness on the German market.
It's not easy for dynamic emails in 2019
HTML5 and CSS3 have become established as web standards, which means there is some hope for interactive emails. If we look at international studies about support for CSS3 code elements with email providers, we can identify an improvement in the situation for dynamic content. So far, no such studies have been published about the German market. To explore the topic of interactive emails and how they are developing in Germany, we've taken six sample emails developed by Justin Khoo from Freshinbox and tested them in Germany's most popular email clients. In each case, we looked at how CSS content is displayed by web-based email services and their apps.
The six test emails contain carousels, hotspots in images, text animations, rollover images, content tabs and a collapsible hamburger menu – which none of the web-based email services we tested could cope with. In the test in general, the web-based email services had the most difficulty showing CSS effects and usually displayed the first static image of an animation or, in some cases, a dedicated fallback image. In contrast, WebKit-enabled email clients such as Apple Mail on iOS and macO S – but also some of the mobile apps from a few German email inbox providers – scored well in their support for coded animations.
These web-based email services support kinetic effects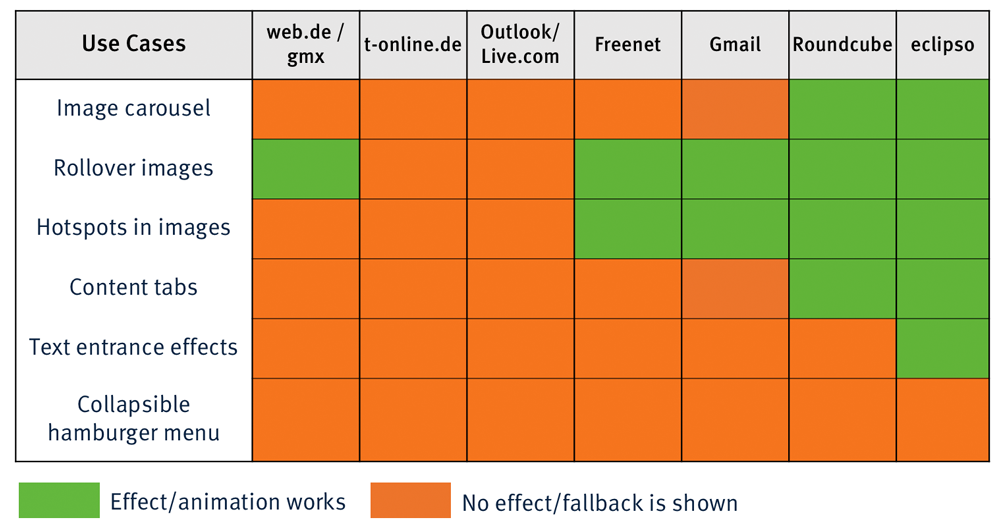 Rendering of dynamic effects in mobile apps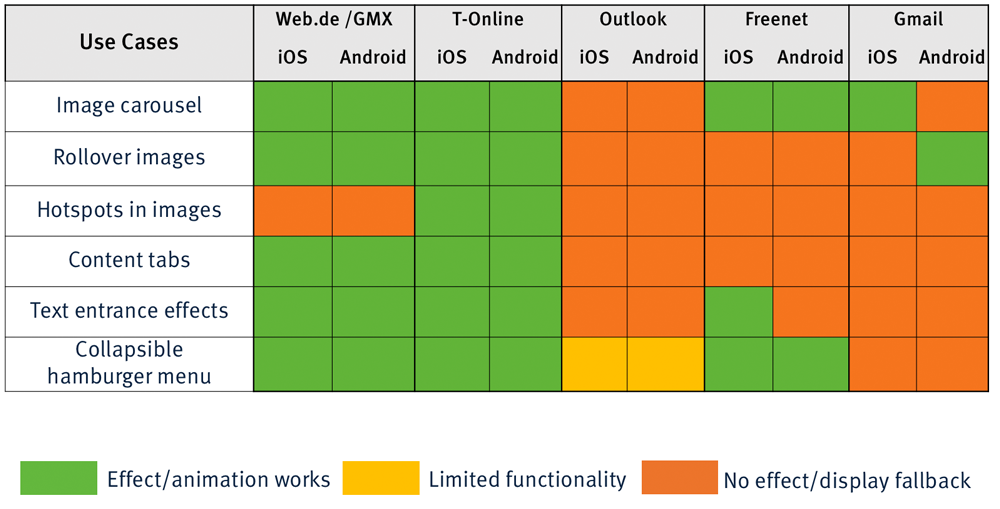 The results show that support for interactive email is still very patchy among the major regional freemail providers United Internet with GMX and web.de and T-Online and Freenet, which together host 50% of German consumer mailboxes. With T-Online, not one of the tested effects worked. The tests that we performed with the open-source web-based email client Roundcube, which is used by many web hosters, as well as with the mailbox provider Eclipso, showed that there are no compelling (technical) reasons for this poor support. Almost all the dynamic elements we tested worked with these web-based email services.
With the mobile apps for iOS and Android, which are increasingly becoming the primary channel for receiving emails, the situation has now taken a turn for the better. In particular United Internet with GMX and web.de, as well as T-Online, have improved their smartphone and tablet apps considerably: in most cases, the current app versions render the tested kinetic elements impeccably and make interactive functions usable. It's therefore safe to say that the German players are significantly more innovative than their international competitors such as Microsoft with outlook.com and Google with Gmail – who are now focusing on topics other than improved CSS support (see below).
Interaction in the inbox
In the second step, we tested the interaction capabilities in emails. With HTML5 and CSS3 code, it is possible to achieve genuine interaction directly in the email. Examples include live surveys, embedded shopping carts, workable forms and content filter options. These options work in WebKit-enabled email clients, while other clients resort to static fallback images. The large amount of work involved in programming and the testing of the many fallback alternatives for the various email clients continue to pose the biggest hurdle for marketers wanting to use these features. Providers such as Rebel, which is now owned by Salesforce, offer a fee-paying service where you can use a modular system to build interactive emails including fallback solutions. There are plans to integrate these functionalities into the Salesforce Marketing Cloud – we look forward to seeing when and in what form they will be made available.
AMP – Google treads its own path
For Google, improved support of CSS3 and HTML5 isn't currently on the cards. Our test also confirmed this: apart from the hover/rollover images, none of the effects from our sample mails worked in the Gmail products. This is probably because Google is trying to establish its own standard on the market. In spring 2019, Google announced AMP for email for the Gmail web-based email service and the Gmail app. "AMP" stands for "Accelerated Mobile Pages". This is a new type of email framework based on the proprietary Google code. Ultimately, AMP emails are supposed to work like interactive websites and provide users with the same experience without having to leave their inbox. The idea is to extend the functional scope of email with features such as comments in Google Docs sent via email, price comparisons between various hotel providers and so on. Yahoo Mail, Outlook.com and Mail.ru have announced their intention to support AMP.
That might sound promising initially. However, Google's homegrown format also causes difficulties for email marketers. For example, senders must first undergo a review process before their AMP code can be approved by Google. This eats up time and increases dependence on Google substantially. What's more, AMP is a new multipart type, so it really is a new type of email, in addition to HTML and text. This means both more programming and more testing, while, at the same time, no professional mailing tool exists as yet that supports this new MIME type as sender.
The future of interactive emails
The Publicare tests show that, even years after our first blog post about interactive email, neither dynamic content nor HTML5 or CSS3 code has become established for email. There are more providers now than back then that, through coding, enable dynamic or even interactive content in inboxes in web-based email or mobile apps. Furthermore, there are fee-based options to exploit the benefits of interactive and kinetic elements in emails, for example, in the inboxes of United Internet (the parent company of web.de and GMX). However, the time and service costs for this content are still very high.
For us, the overall picture is of a fragmented provider landscape. In addition to freemail providers, who continue to ignore dynamic content completely, a few other providers are emerging who at least try to offer partial support. And then we have the Internet giant Google, which seems to have no interest in using HTML5 or CSS3 and instead is forcing a new, proprietary email type onto the market. Dynamic and interactive emails definitely remain an important topic in 2019, although we believe that the focus should shift more towards the use and implementation of existing and open standards. If, for example, the programming effort could be reduced by using kinetic CSS libraries and tools and if Internet service providers would increase their support, interactive emails based on HTML5 and CSS3 could get a firmer hold.
Let's talk about your newsletter marketing strategy
Contact us. We'd love to advise you about the designs and techniques you can deploy to maximise the potential of your email marketing activities. We look forward to hearing from you!