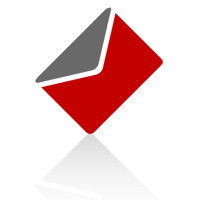 Email subscriber acquisition strategies of 6,000+ U.S. online shops
19. November 2015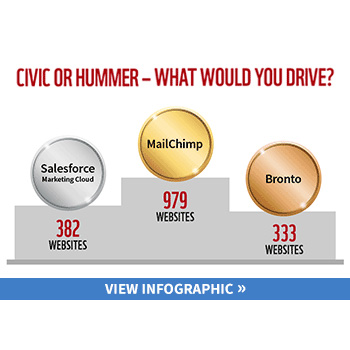 Email service providers most commonly used by U.S. online shops
14. May 2016
Works on a website – doesn't work in email. Every email marketing manager has already shared in this frustration. Or, as Justin Khoo writes on freshinbox.com:
Although HTML email has been around for almost as long as the Web, email has often been regarded as the Web's ugly stepchild. The inconsistent and outdated HTML support in email clients seem to reflect a mindset that as long as senders can place some images and text in an email, it's enough. Why ask for more? Apparently, email is not a medium for innovation.
Things seem to be changing now as new email clients emerge that support the more advanced HTML5 and CSS3 codes fully or at least in part – thus enabling responsive email design. It is exactly this point that is the starting marker for kinetic email design: using CSS-code you can now integrate elements into marketing emails which up until now were only available on websites: attractive image sliders, actual navigation tabs, attention-directing mouse over effects and much more. This turns emails into something similar to a microsite. Sounds great! But how much website does an email really need – and which cases actually justify the effort?
Effort and possibilities: When does kinetic email design make sense?
Back in July 2014, the term kinetic design started appearing in the blogosphere – thanks to a spectacular email campaign sent by the British DIY-company B&Q in cooperation with Oracle. The email community loved this campaign and started sharing it. The B&Q mailings are not only innovative in terms of design, but also they had more content above the fold and unprecedented options for interaction – the results were impressive.
There is a catch, of course: kinetic email campaigns require elaborate programming efforts that make them more expensive than "normal" email campaigns. Next to a smart phone, tablet and desktop version you also need to identify numerous exceptions and create fallbacks for all those devices and email clients that do not (fully) support the CSS you have used. So you must weigh the conversions the campaign achieves against the programming effort to answer the question: at the end of the day, does kinetic email design really benefit a company?
The game changer: The gmail app on android devices
One fact in particular that lets the profitability of kinetic email campaigns go down further: all newer Android devices beginning with Android 5.0 no longer have the native Android mail app installed but rather feature the Gmail app exclusively – and the Gmail app does not support 'kinetic' code. While the B&Q emails in mid-2014 worked wonderfully on Android 4 they would probably be displayed in the fallback version on today's Android 5 smart phones featuring the Gmail app.
Among desktop clients, Outlook especially for Windows does not support kinetic CSS-code. The Gmail, Yahoo! and AOL web clients currently only partially support kinetic code.
For the time being this means that kinetic design will remain a luxury for Apple users and (with some exceptions) Windows phone users. Using this technology really only makes sense if your recipient base demonstrates a respective behavioral pattern. (→ Overview of CSS-support in email.)
How much website does an email need?
2016 most likely will not be the year of the kinetic email. Not only B2B but also B2C campaigns will most likely be using classic email design elements in combination with the good old landing page (which, by the way, effortlessly displays 'kinetic' elements!). These email campaigns will be quicker and cheaper to produce and thus result in higher revenue than the trendy, but expensive kinetic email.
Kinetic design will probably make a big impact again when Android devices are standardly equipped with a mail app that fully supports CSS3 – and once professional email marketing platforms offer kinetic templates that shorten the production time for kinetic mailings. For B2B it will become a hot topic once Outlook for Windows starts supporting CSS3.
Will HTML email remain "the web's ugly stepchild"? It doesn't have to. Currently trends in email design don't transport all new ideas, but rather aim at narrowing the gap between what is possible in the browser – on a website, in an online shop, on social media portals – and what can be displayed in an inbox. Maybe email won't even become a more attractive and successful marketing instrument when it morphs into a perfect little microsite you can send around but rather at a point when email perfectly complements other online-channels.
Test it and see for yourself!
More on this topic on other blogs and websites