Permission Manager for Emarsys marketing platform
Manage your contacts and opt-ins securely and efficiently
Permission Manager: Services at a Glance
Manage your opt-ins in a GDPR-compliant manner
To meet the documentation and evidence requirements of the GDPR, Emarsys Permission Manager records opt-in and opt-out data in Emarsys Marketing Platform. Following a "click" in a double opt-in email, the Permission Manager transfers data to Emarsys via the API, creates a recipient profile, stores the IP and time stamp of the consent, and sets the opt-in to "true" – existing records are updated. Thus, even contact persons who previously unsubscribed can re-register to receive an email – a function that was not easy to implement in the previous standard set-ups of many Emarsys customers. In addition, the Permission Manager automatically monitors changes to data protection and registration pages, creates screenshots of each page version and provides a historical overview of all page versions. All of your permissions are therefore fully documented, and you are legally on the safe side!
Respond faster, automate more
To prevent new subscribers from having to wait long for an initial welcome email, Permission Manager triggers automations with Emarsys external events. For example, it triggers your welcome process – directly and in real time. Of course, this also works for other triggers and different channels. For example, when you receive email opt-outs, you can automatically send a text message to your customers or a voucher by post encouraging them to stay!
Newsletter formats, frequency and interests – let your customers decide
In addition to administering general opt-ins, you can manage the processes for multiple newsletter formats and various subscribe and unsubscribe processes to individual newsletter formats. Use Permission Manager to trigger different individual DOI mails or welcome processes, depending on the recipient's interests – in Emarsys, the data are correctly assigned and documented per user in compliance with the GDPR. Enable your users to manage their own settings in the preference centre. Permission Manager directly shows them their existing data and interests – for example, details on different email subscriptions – so that they can change them as they wish, and Permission Manager immediately updates the data record in Emarsys. Permission Manager also allows you to create an unsubscribe page, which you can configure as you wish and integrate alternative offers or, for example, include a survey on why users have decided to unsubscribe.
Cross-channel data management
With Permission Manager, the data stored in third-party systems (e.g. CRM, ERP) that are connected to your system are kept up to date in real time. You can update your customer databases, for example, after registration, deregistration or data changes and trigger tasks in your customer care systems for your sales department or call centre agents. Permission Manager can also receive newsletter registration data from external sources, enrich it and forward it to Emarsys. In this way, all systems are kept up to date – automatically and without burdening internal IT resources.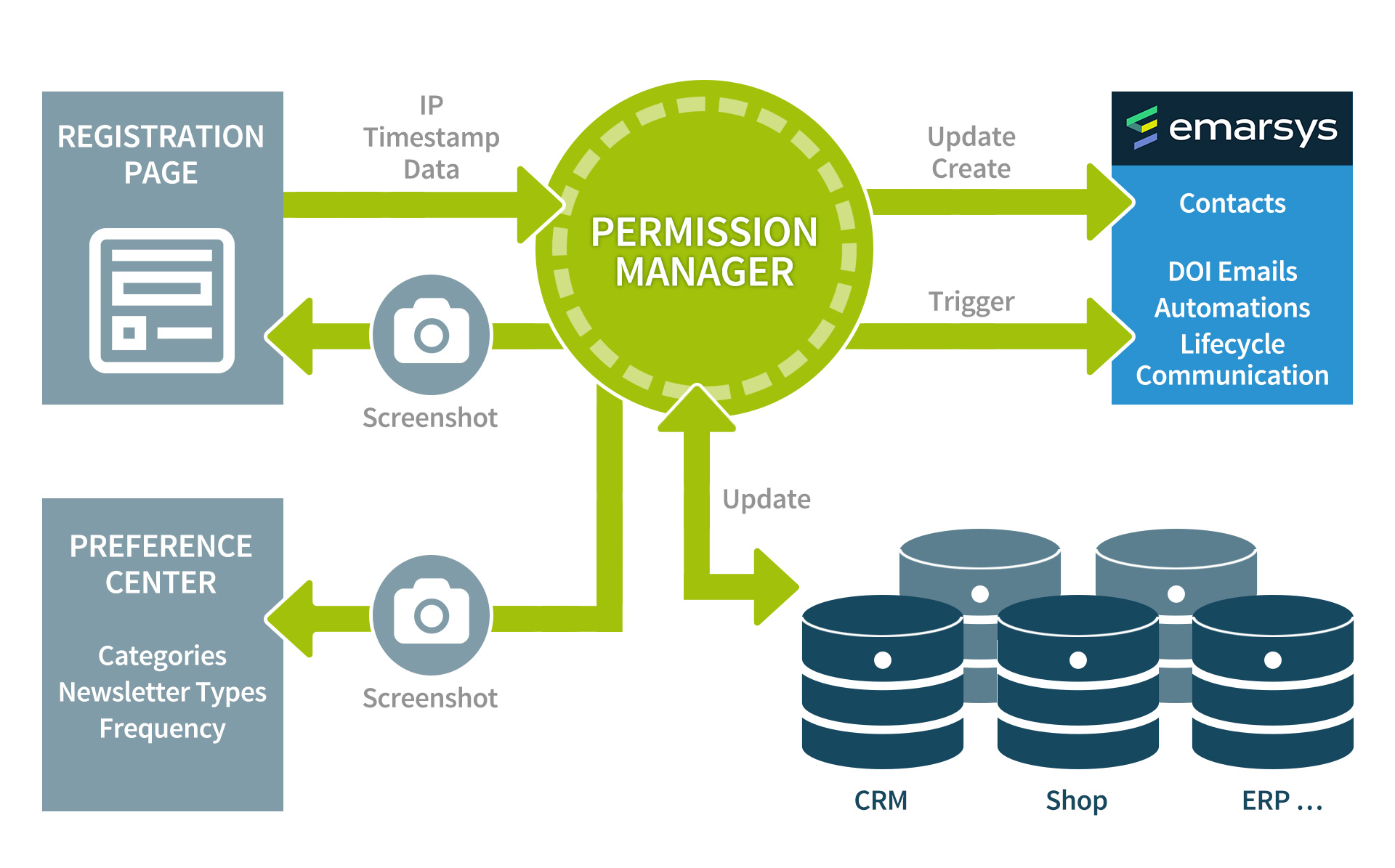 Our agency services for Emarsys marketing platform