SAP Emarsys connector for B2B marketing automation
SAP Sales Cloud and Emarsys:
Ideally combined to boost sales
Smart integration of marketing automation and CRM
Users of SAP Sales Cloud (Hybris Cloud for Customer – C4C) have long been calling for a marketing automation solution that can be seamlessly integrated into existing systems. By acquiring Emarsys, SAP is now able to offer an e-mail and multichannel marketing platform from a single source that combines all the key functions for B2B marketing automation and can be implemented in just a few weeks.
The SAP Emarsys connector by Elixir and Publicare seamlessly integrates these two systems into an end-to-end marketing automation solution, making Emarsys the enterprise lead generation and lead nurturing platform for SAP Sales Cloud (C4C).
Best of breed: Two leading solutions, seamlessly integrated
Away from inefficient data silos to integrated processes: Bidirectional synchronization enables a closed loop to be created between marketing campaigns in Emarsys marketing platform and sales campaigns in C4C.
Contacts pre-qualified by marketing are transferred to C4C as leads together with engagement indicators. And vice versa: changes to contacts, leads or opportunities in SAP Sales Cloud can trigger automated email journeys in the Emarsys marketing platform. As a new component of SAP Customer Experience Suite, Emarsys plays out its strengths: The cloud-based marketing automation solution enables companies to automate and scale personalized customer interactions across channels – and can boast a very high level of usability.
B2B marketing integration with Emarsys: easy to use, great results
Convenient and flexible content creation using the drag & drop e-mail editor
Automated follow-ups on behalf of account managers
Individual campaigns tailored to your recipients' behavior and interests – automated via different channels (CRM ads, print, SMS)
Form landing pages for events, downloads, product information
Performance measurement and strategic analytics and much more
Implementation within weeks, not years
A key advantage of the SAP Emarsys connector by Elixir and Publicare is its ability to be integrated as part of a compact marketing project in just a few weeks. Spare yourself the time and expense of an IT project and benefit directly from an automation solution that maps the entire customer journey and customer lifecycle!
Integrate Emarsys seamlessly into your existing SAP environment
We would be happy to show you how to integrate Emarsys marketing platform into SAP Sales Cloud (C4C): for efficient marketing automation, lead generation and lead nurturing. Contact us today for a non-binding demonstration.
If you use this form to contact Publicare we will use your data solely for the processing of the conversation between us and inform you about our products and services. As part of the despatch process, your consent for the processing of your data for this purpose will be obtained. This process will not involve any sharing of your data with third parties.
About Publicare and Elixir
As Emarsys Certified Partner, Publicare Marketing Communications has been offering premium global services for Emarsys marketing cloud since 2001 and developing add-ons for integrating customer systems on the Emarsys marketing platform.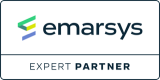 The SAP Emarsys connector is a joint product of Publicare and the certified SAP partner Elixir Solutions. Elixir has extensive experience in developing marketing automation connectors for SAP Sales Cloud (C4C).